It's estimated that there are over 1.7 billion websites on the internet. Even though we have so many sites to visit, we may still find ourselves to be bored throughout the day. If you need ever something to do when you've gotten all your work done or maybe when you're procrastinating, then check out these 10 sites!
incredibox.com
On this site, you can create different types of melodies and songs by selecting acapella cartoon men. They make all types of sounds like beatbox, vocal melodies, and even robot voices. You can pick and choose how many acapella sounds you add – but if you find a specific order, you can unlock a secret song for each theme. It's really fun to listen to the songs you've created after compiling them all together.
Start becoming the musical composer of your dreams here!
uselesssite.net
This site is pretty self-explanatory. On the site, there's an arrow pointing to an un-checked box. To the right of the box, there is another box – this one is a large, gray one. Once you click on the un-checked box, the big box slides, and a hand comes in and undoes your check. That's it. You can try beating the hand by spam-clicking the box, but it will always reverse your progress.
Try and beat that pesky hand here!
orb.farm
Have you ever wanted to have a small aquatic ecosystem right at your fingertips, while also being conveniently online? You can have it on this website!
Essentially, you can create a personal aquatic ecosystem to "nurture, sculpt, and observe." The tutorial suggests to start with adding sand or water. Then, you can add organisms like Daphnia, bacteria that it can feast on when it hatches, and fish. If you ever make a mistake, there's a "clear" option to erase it!
If you would like additional information about the site and how each function works, you can click "Info". This site is also very educational, since you can learn about ecosystems and the organisms in them.
Start your own ecosystem here!
trashloop.com
Living up to its name, this site also contains a loop. There's a monochrome room with a trash bin in the corner. On the floor, there's a paper ball that you can drag and drop in the trash. The catch is, whenever you put it in, the ball will shot back up and fall on the floor.
Sometimes, the ball will stay inside longer than other times. Do you think you can succeed in keeping the ball in the bin?
puginarug.com
On this website, you're met with a very polite pug wrapped up in a rug. As you move your cursor, the pug slowly follows it. On the bottom, there's a counter that counts how many seconds you've been on the site. The more time progresses, you will unlock more and more ranks.
Funny enough, there's a world record to beat! The longest documented time anyone has spent on the site was 1,209,236 seconds – that's about 336 hours. Their rank? They became an Acolyte of pug. Do you think you can beat this record?
Bask at this pug's glory here!
http.cat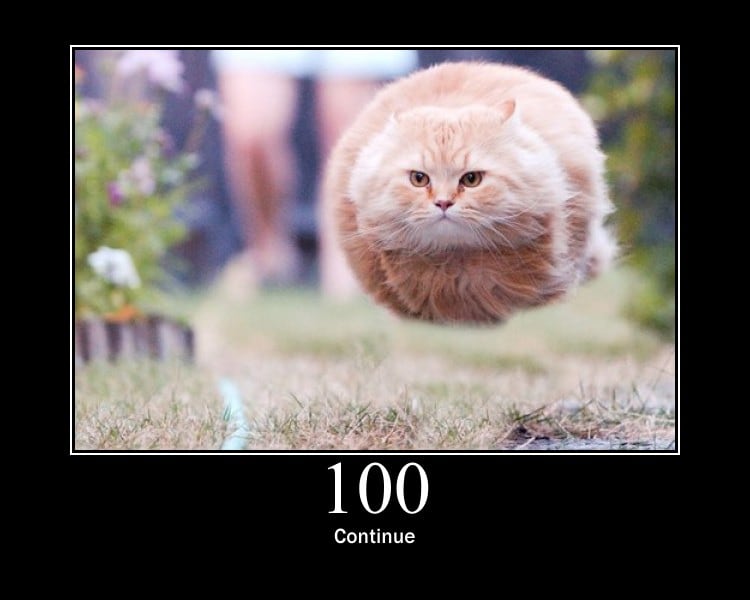 Do you want to expand your knowledge on HTTP errors while looking at cute cats? This site is perfect for you. From HTTP error 100 to 599, this online gallery shows you every type of error, accompanied by a cat meme. Learn about all the types of errors you can face online as you appreciate funny cat images!
Learn and admire cute cats here!
longdogechallenge.com
Like puginarug.com, this site also has a counter. As you scroll down, the site gets longer and longer as the neck of the dog – its name being Doge – gets longer as well. Every time you scroll past a "wow", you collect the word. There are also bigger words and even special features that you can discover as you continue to scroll.
Just by scrolling for 4 minutes, I have collected 1,707 wows and 24 LARGE wows. How many wows can you collect?
checkboxolympics.com
Feel like you need to challenge your checkbox clicking skills after visiting uselessite.net? You can do so on this site. When you enter, you're presented with empty check boxes, an explanation, and a "ready" button. This site will time you on how quickly you can check all of these boxes.
cat-bounce.com
Another cat-related website: cat.bounce.com. This site is interactive, giving you the ability to play with and move around gray felines that bounce around the screen. Some cats are heavier than others, so the more force you add, the more the cats will bounce. If you want to make it rain with kitties, there's a designated button for that. When you click the button 3 times, it will rain rainbow cats! If you'd like to change the background color, then refresh the page.
Bounce these cats around here!
thezen.zone
Last but not least, The Zen Zone. This site acts as a "minimalistic meditation area, designed to calm you down with small, satisfying tasks. You can choose out of 3 games to play: swirl, switch, and break (I recommend switch!) From there, you can choose how much time you want to spend on it: 1, 3, or 5 minutes.